What do you think – the Internet is a boon or a curse? Well, it is a concept of two facets like anything other. Today, this text guide will emphasize on the untoward side of the web world that offers an ideal surface for online scams, frauds and many other swindling activities. Among all, holiday rental frauds or vacation rental scams are quite common in practice to dupe gullible people using misleading ad promos and inducing vacation advertisements.
Undoubtedly, internet technologies have grasped the world comprehensively to transform it into a small village. But we should keep this thing in mind that each subject owns two sides, to be fruitful and hazardous contemporaneously.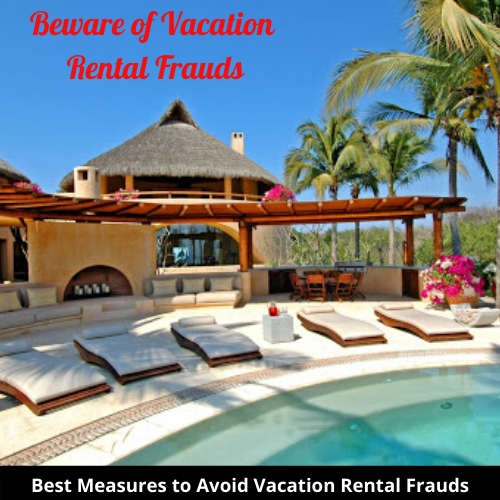 How Fraudsters Swindle You?
When it comes to shaping a holiday trip or vacation itinerary, we often get to sleuth online for the best vacation destinations along with the budgeted tour packages as well. This is the time online swindlers are waiting for you. The scammers are all set to entrap you via the alluring but phony advertisements for villa/apartment/chalet rentals at magnificently affordable prices.
Most commonly, fraudsters create arresting but fake websites or advertisements identical to the legitimate real estate web portals. They manage to show you like real property descriptions, photos, and other related information to glimpse like a genuine and authorized company. Attentively, online scammers post addresses of locations/homes, which, most of the time, doesn't exist. You can also find these villa rental scam ads in newspapers, online chat boards or fake websites.
The ultimate aim of such scam efforts is to receive initial payment from you. Further, it also lets visitors fill an application form that contains your personal information. It helps swindlers in stealing your identity. To make you believe it like a real transaction, they also send you rental agreements, keys, and other similar indicators. But when you come to the getaway, you learn it was a ruse.
9 Measures You Can Take Against Vacation Rental Frauds
Well, instead of the dominating status of apartment rental scams, you can avoid these types of unwanted practices, too. Common sense is the principal weapon you can apply against online frauds. Think yourself, how one can offer you astounding villa rent services at stunningly lowest prices. It is just impossible if you trust your instinct.
Furthermore, you can even check the following ways out to help yourself against chalet rental scams or rip-offs.
The first action you can make is checking out the property yourself. You can even grant this task to someone else to do on your behalf. You should do this before depositing anything into the firm's account to ensure your safety at all corners. Another prospect is to run an online search of all names, email addresses, venture addresses, or phone numbers etc. You must be attentive of red flags, which contain search results that indicate the nonexistent addresses, property for sale, and, of course, review postings of people who fell prey to online rip-offs.
Next, enthusiasts can check the chunks of ad descriptive texts in search engines. Copy and paste the matter in the search bar to see whether it's been copied from any other online resource. If you get to plagiarized content, then assume a trickster lying behind the picture.
To be safer against chalet rental scam, make sure to navigate the Google Maps to witness the aerial view of the property. Additionally, street views will also be beneficial for you. It will let you inquest whether the given address actually exists or not.
Only an email address can't affirm the vacation rental offerings to be legitimate and genuine. Most of the rental scams are being performed by Nigeria-based cheaters. If you wish to talk to them on the phone, there is no guarantee that there will be no crook on the other side. They are often likely to use the internet-based line (with local area code) or disposable cellphones to assure you of an original entity. You also must be cautious of distant American area codes.
Always prefer to use a credit card or PayPal while making online payments of any kind. It keeps you ever in a safer zone, and you will have recourse if something happens unpleasant. Upfront payment via prepaid debit card or wire transfer may lead you to mishaps like villa rental frauds and similar other tricks.
Apartment rental frauds can also be tackled by asking for proof of the identity of property owners. Before proceeding further, you can ask them for a copy of Driving License and then proceed to cross-check that information with the record of the respective authorities. Now, you can do this all the way online by sitting at your residence.
Furthermore,if you're dealing with the assistant (manager, agent etc.) of the property owner, ask for proof that the person, you are dealing with, reserves the right to sign a contract on behalf of the owner. You can reaffirm the information with the owner too, to soothe your doubts.
One of the promising steps that you can take is to verify the real estate agent's identity credentials. For it, you can search for the authority's name on the official website of the Association of Real Estate License Law. Moreover, you can do contact the licensing office in the agent's particular province. Well, you can find the office details by typing (in search engine) name of the state, followed by 'real estate licensing'.
Another effective way to prevent chalet rental frauds and other such scams is to consider the reputed and promising platforms like AirBNB.com, Roomorama.com, and VRBO.com etc. Moreover, timeshare resorts and Condo associations may also escape you from holiday frauds or vacation rental scams.