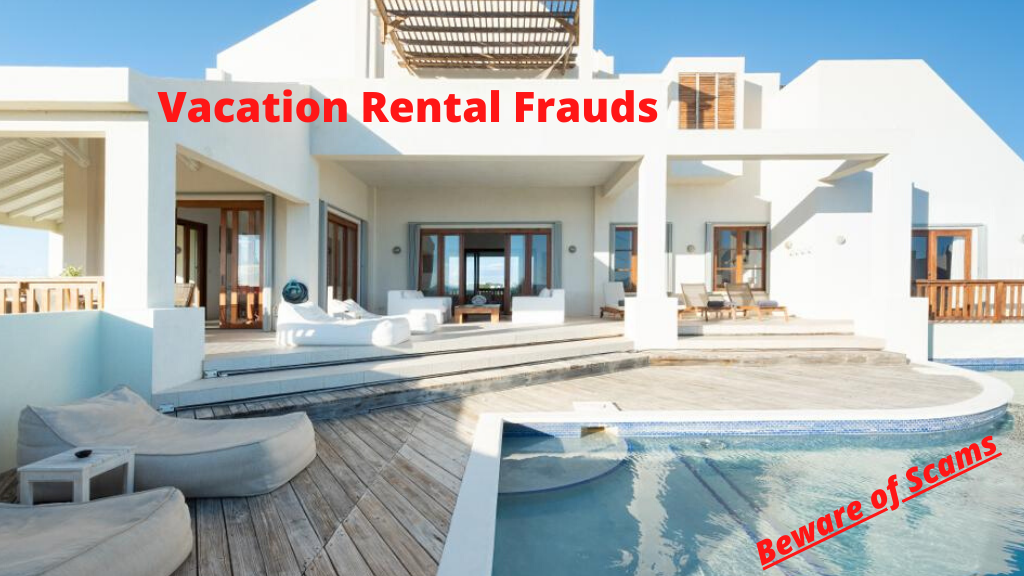 We quite often come to listen to the online rip-offs and burglaries instead of following various preventive tools. The vacation rental scam is another facet of such unethical practices, which also has added to the worry. It has thrived rapidly during recent years and now demands serious and vigilant actions to take over the situation. Today, in this text article, we will get along with the issue of online scams, its types, and some preventive actions to escape from it.
Let's have a quick report at what the online vacation rental fraud is and how to tackle it. Well, the vacation or holiday rental scams are all over the internet. It is a kind of digital swindle by executing fake or unauthorized methods or means.
In other words, it is a practice that includes fake ad listing, promoting it on search engines and making visitors click the ads. After making an upfront payment, you will book the vacation rentals that don't exist in real sense. The person behind the fake placard stops respond to your queries and that all they intend for. You have lost your money with no place to stay.
7 Ways to Escape from Vacation Rental Scams
If you trust your common sense a bit at all, you can avoid these types of unpleasant online frauds. Here we have piled a list of 7 ways that you can follow to prevent yourself against vacation rental scams. So, without making any further defer, let's dive through the list.
Beware of the Tempter Pricing
This the most powerful and pivotal weapon in the hands of fraudsters to dupe you. They attract you with incredible lowest price deals and claim to be the most affordable in the region. Well, here, all you need to use your common sense at all. The famous proverb "If it looks too good to be true, it is" also suits many of such incidents.
While researching for the best vacation rental deals, make sure to verify the pricing popular in that particular area. Prices vary accordingly as per the number of rooms, location, amenities, and other similar factors. It any property owner offer you a decent discount in prices, be wary of it. How one can serve you with fabulous services at nominal prices? It is a pure hint of scam.
Prefer Authentic and Secure Payment Methods
The next prime prospect that you need to consider with high-attentiveness is the payment method. In most of the apartment rental scams, property owners ask you to deposit upfront payment via wired transfer or cash. You must be understood that it is a scam.
Then what is the trusted payment method? The safest and the best way to make an online payment is via credit card. Irrespective of your location or state, credit card always delivers better consumer protection as compared to any other means. In case you lost money with fraud or scam, almost all of the credit card companies provide the surface to recover your money.
Furthermore, there are various vacation rental websites, i.e. homeaway.com grant secure payments systems. They also ensure money-back guarantees at some additional cost to tone up your security levels. Hence, it is advisable to get read to the terms and conditions of the deal before you click the 'Book Now' button.
Websites like Airbnb, Rentini etc. do not release payment to the service provider until 24 hours. It gives you a time to check in the property details, and you will be liable to get refunds in case you find the property non-existing or not as per the advertisements.
Keep Away from Paying in Cash, Wired or Western Union Etc.
Cash payment, wire transfer, Western Union, and cheque are some of the most favourite payment methods of scammers. Never have your hands on these to prevent from the vacation rental scams. Once you indulge into any of these, no guarantee you will get a refund of your money.
If the property owner is unremittingly asking you to deposit payment via any of these methods, start looking for another party without thinking anymore. Moreover, you also must be wary, especially of emails and phone calls. Owners you think unknown to the local area or use poor grammar in written communication, should be avoided necessarily.
Inquest the Actual Existence of Property
Before proceeding to the payments, make sure to verify the existence of the apartment or cottage via Google Maps or any other mapping software. Cheaters are likely to use false or non-existing addresses or addresses of actual buildings that are vacant lots, offices or warehouses. You can also bear the help of someone who lives nearby the given address to check the property for you.
Probe the Property Owner with the Respective Associations
This is another an ideal way to avoid villarentalscams if you investigate whether the owner is a member of respective rentals' association (for instance, Vacation Rental Managers Association) or not. Further, you can check the association's website to check for the standing of the owner you are dealing with.
In another effort, you can also call the Convention and Visitors Bureau or the tourism office of the area you plan to visit to know the status of the owner.
Make Online Searches
Search engines like Google, Yahoo, Bing can help you in the matter too. Do some research about the property owner's name, address, emails, phone numbers, who pay the property taxes, and the business website. Likewise, do check the ad description texts whether it is copied from elsewhere or unique content. If you notice something suspicious, act wisely and step down.
Try to Opt for Known Properties
It will escape you from being a victim to the vacation rental scam if you choose to rent the known property or cottage. You can rent a property that someone (known to you) has already rented in. Therefore, you can ask him/her about rental policies, services, payment methods, and other queries on your mind. Professionally-managed properties VaycayHero and VacationRoost etc. are other alternatives you can consult with.