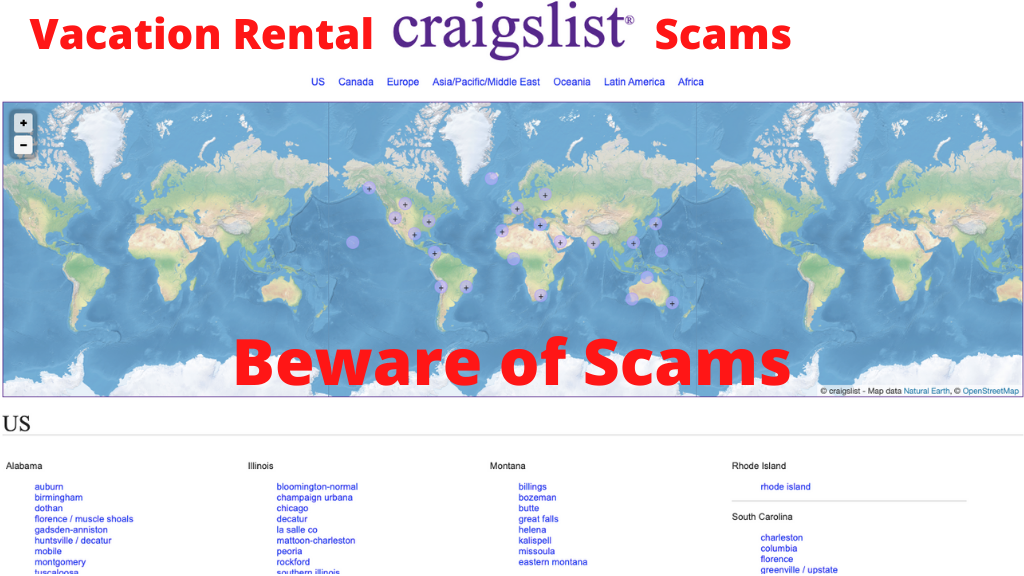 One can't deny frauds on the internet. In fact, cases related to the online spamming have gradually accelerated over the recent years. Today's post intends to let you know some basic preventions against vacation rental scams on craigslist. If you are about to move for summer holiday vacations and looking to book an apartment online, have a read on the piece. It is a dedicated text guide, which you can find quite helpful to know how to avoid vacation rental frauds on platforms like craigslist.org etc.
When it comes to dealing with online vacation rental sites, one should have to be vigilant enough to prevent online rip-offs. Swindlers are today smarter and have developed innovative techniques to cheat you digitally. As per a study, there are numerous fake websites all over the internet, which provide holiday rental apartment services etc.
Craigslist is Not Free of Spammers Too
What do you think how much craigslist.org is safer to book vacation rentals online? Undoubtedly, craigslist is one of the most trusted and verified platforms to conduct online booking for holiday apartments or villas. Whenever you have a spared time to enjoy your vacation time, you might prefer craigslist for the purpose. But the truth is something different. Spammers are available on this recognized website too, having eyes on your pocket.
We often come across vacation rental spam stories on this site. The process generally involves the fake rental advertisement listing, a request for an upfront payment and then a full stop on the conversation. You end up with your money duped by fraudsters and no clue of their identity.
How to Prevent Vacation Rental Scams on Craigslist?
Well, we have managed for this intended text article to give you some basic tips you can follow while opting to the online apartment rental bookings. Make sure to follow the precautions vigilantly to avoid villa rental frauds on craigslist. Since the matter is identical to any other web portal, so, the measures would be almost similar for all web channels.
Trust Your Common Sense
At first, your common sense or judgement is the prime weapon to avoid vacation rental frauds. It is your judgment that can help most to recognize the website to be spam for you.
The job is simple. Generally, fraudsters used to misguide the searchers with incredibly lowest price offers. For instance, apartment rentals in Las Vegas usually range near about $500 per night. If your advertiser is offering you this deal for just $100 per night, just think how it can be possible? This is an explicit sign of spam.
The opposite face of the picture is that most people think fraudsters always aim at higher prices. But not. Online swindlers target a large number of people to fall victim with lower prices and other attractive discounts. Ultimately, they end up with a huge sum of money.
Check for the Rental Location in the Maps
This is also a fruitful way to avoid vacation rental spams on craigslist. Make sure to find the exact location of the vacation rental address on Google Maps or others. Check if the property actually exists or merely a fake address. Moreover, you can switch to the Street View or satellite view to affirm the location more precisely.
Beware of the Payment Method
Scammers' best and favourite mediums of payment are cash payment, Western Union, Wire Transfer, and Cheque etc. Hence, if your service provider is setting you to avail any of the methods mentioned above, quickly consider it as a scam. The safest mode of payment in these cases is the Credit Card.
Make Careful Search on Craigslist
While searching for the best vacation rentals on Craigslist, make sure to navigate popular holiday destinations. If you are a native of New York and plan to visit Florida, local sellers may try to lure you with Disney tickets, which you are unlikely to get. Therefore, you should explore some more related pages to find the best and trusted dealer.
Rent Known Apartment if Possible
Renting a known apartment is another good way to avoid vacation rental frauds on craigslist. You can consult someone you know who has opted to the deal recently